'You Can Only Picture it with your Eyes', ceramic mosaics, wood, 60 x 80 cm, 2021
You Can Only Picture it with your Eyes

What is the nature of our desire to travel and discover in modern times? Why do we travel? What do we look for in unknown exotic countries? What does this bring us? What do we really bring back home with us? How do certain places become touristic destinations?

For a long time, the phenomenon of mass tourism fascinates me. I look into how it influences places and their cultural heritage and how those changing touristic destinations influenced tourists in return.

To explore and research those questions I went to Georgia, a country that was named by Lonely Planet as the top travel destination in 2018 and was recently rediscovered as a tourist destination.

Easy accessible mobile cameras instantly make us tourists. Images produced on holidays in an attempt to capture an experience or share it are often replacing the moments of actual experience. Therefore I decided not to make any visuals during my research trip. But instead to travel around the country and conduct interviews with tourists.

Afterward, I staged and reconstructed the thrill of traveling, in my studio with objects from Georgia and based on the conducted interviews. With this hybrid work, I'm opening up my process of looking at tourism as an artifact.

Mosaic was a monumental signature medium that is spread around Georgia. Most of the mosaics were created for propaganda reasons in the Soviet period. They were used as a medium to inspire ideology and glorify achievements. At this time most of the mosaics slowly are getting destroyed by nature and fading away, meanwhile, some of them are major sightseeings for tourists in Georgia. As an ultimate monument of tourism, I created 12 meters mosaics with quotes of tourists. 

'Wide open, glorious, a beautiful light',  giclée print, 59.4 x 84 cm, 2021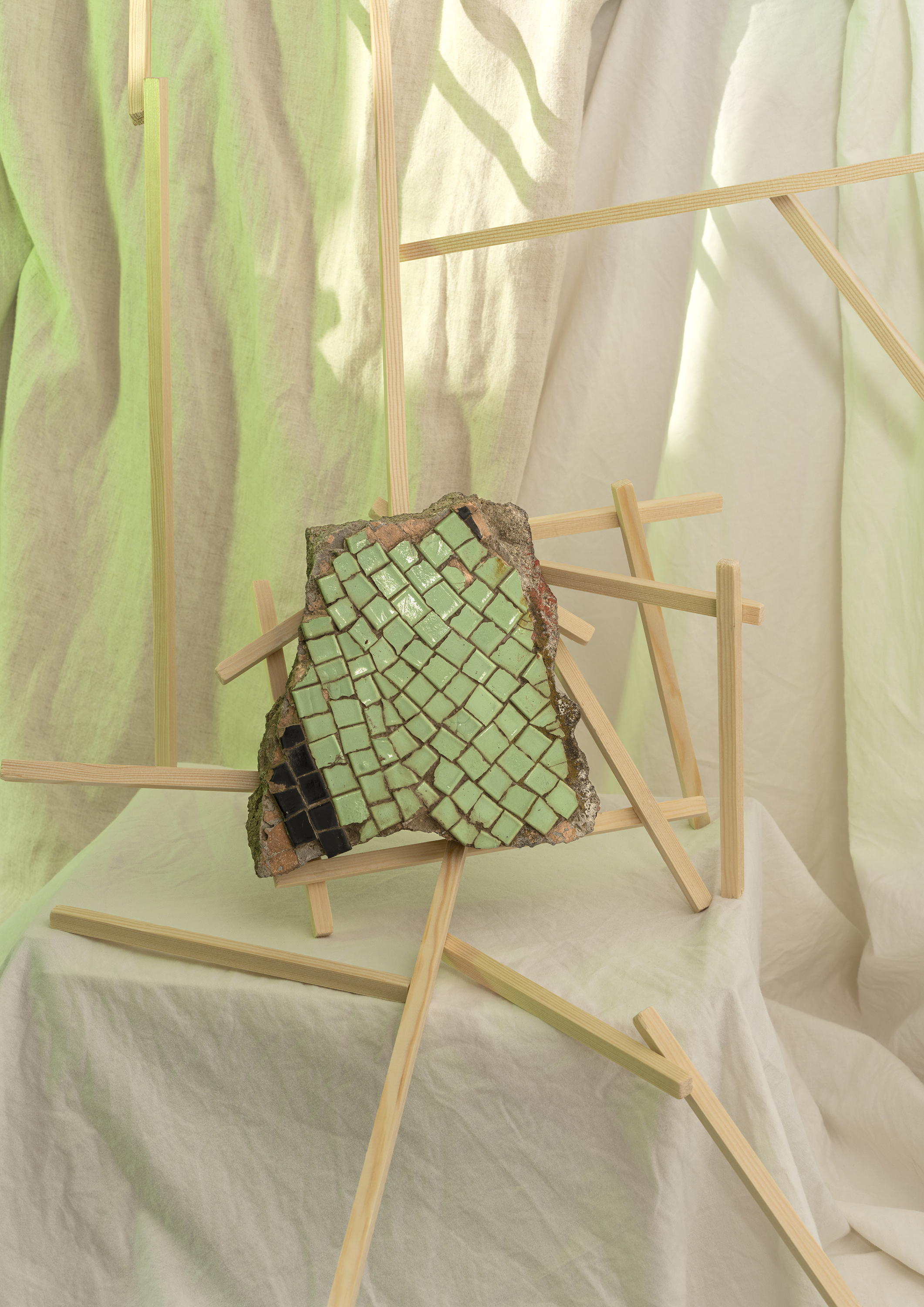 ''A short flight', giclée print, 59,4 x 84 cm, 2021

'Instead of a rifle he has a camera and he is endlessly conquering these places by making photographs depicting himself', 
ceramic mosaics, wood, 100 x 150 cm, 2021
'I have very strange feelings when I see this place', inkjet print, 65 x 80 cm, 2021

'Prospects', Art Rotterdam, installation view, 2021

 

'It Reminds me of Something', canvas, acryl, metal, 60 cm x 400 cm, 2021
 

'It Reminds me of Something', canvas, acryl, metal, 60 cm x 400 cm, 2021

'It Reminds me of Something', canvas, acryl, metal, 60 cm x 400 cm, 2021
 

'A stone game',  acrylic print, oak box frame, 20 x 30 cm, 2021
'Dessert, volcanic landscapes, and a lush forest', acrylic print, oak box frame, 20 x 30 cm, 2021

 

'A very nice place for photos', ceramic mosaics, wood, 50 x 50 cm, 2021

'I have very strange feelings when I see this place', giclée print, 65x80cm, 2021